Chitarra Classica – Intervista al chitarrista canadese David Jacques (English version below Italian text)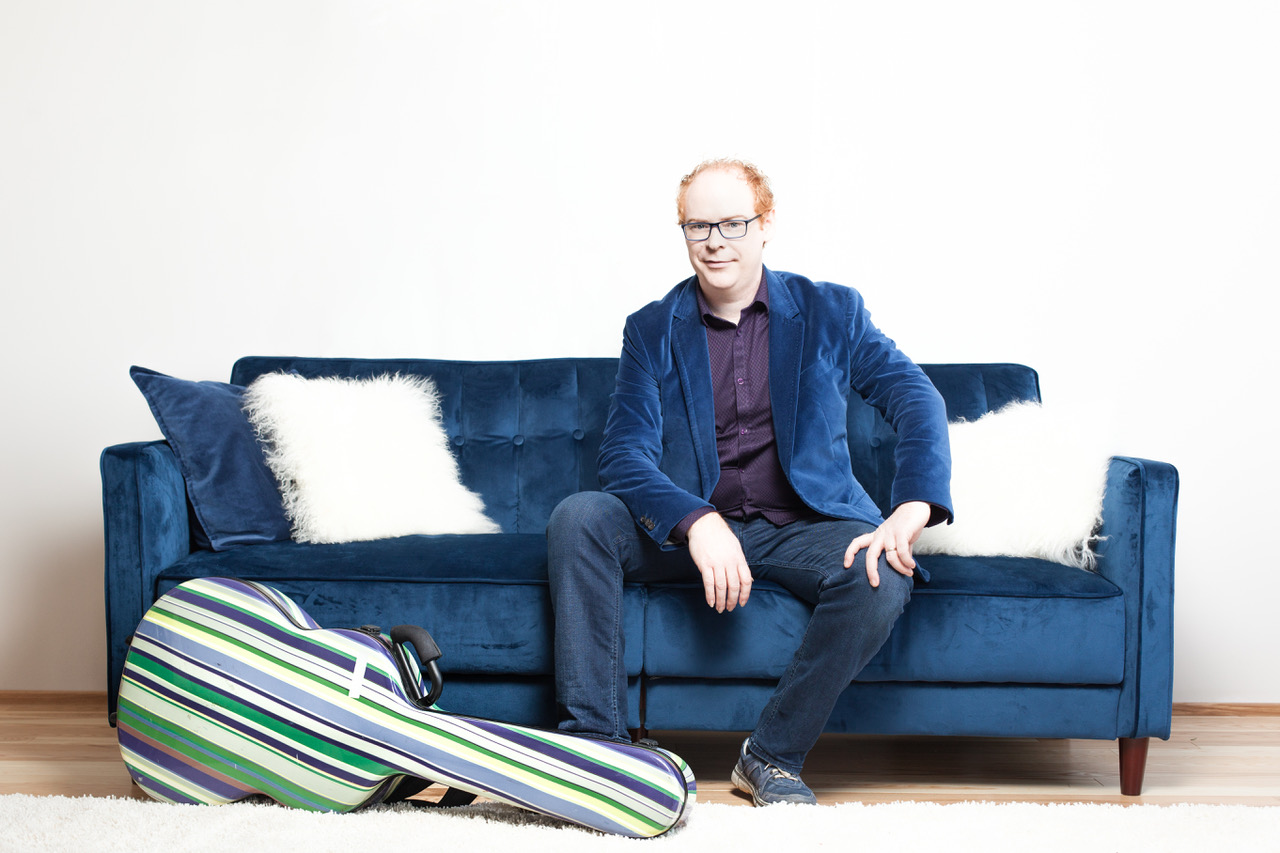 Chitarra Classica – Intervista al chitarrista canadese David Jacques (English version below Italian text)
---
Questa volta protagonista assoluto sarà David Jacques, musicista canadese di fama mondiale. Originario di Saint-George de Beauce nel Quebec, ha all'attivo oltre 3.500 concerti in tutti e cinque i continenti ed è professore di chitarra classica e liuto presso il Dipartimento di Musica di Cégep de Sainte Foy e alla facoltà di Musica dell'Università di Laval.
Originario di Saint-Georges de Beauce, Quebec, David Jacques ha conseguito un dottorato in performance di musica antica (D.Mus. Guitars and liutes) presso l'Università di Montreal. Ha studiato chitarra classica al Cégep de Sainte-Foy, alla Laval University e al Conservatoire de musique de Québec. Ha collaborato a più di 50 registrazioni sulle etichette XXI-21, ATMA, Oz e Analekta, molte delle quali sono state nominate per ADISQ, JUNOs, Opus Awards ed ECHO Classiks. I suoi dischi Guitar Pieces di Rémy Médard (2008), Tango Boréal (2012) e Pampa Blues (2014) gli hanno valso in particolare l'Opus Prize. Ha inoltre pubblicato diversi arrangiamenti per chitarra per conto di Productions d'Oz. Molto attivo qui e all'estero, ha tenuto più di 4000 concerti in più di 40 paesi e nei cinque continenti. È stato ospite di diverse orchestre come i Violons du Roy, l'Orchestre symphonique de Québec, l'Orchestre Métropolitain, l'Orchestre symphonique de Montréal, IMusici, Moscow Pocket Symphonie, L'Hermitage de Moscow, l'Ensemble Caprice e la Houston Mercury Orchestra. Oltre alle sue attività di esecutore, David è professore di chitarra classica e liuto presso il Dipartimento di musica di Cégep de Sainte-Foy e presso la Facoltà di musica dell'Università di Laval. Fa parte saltuariamente di giurie di importanti concorsi nazionali ed internazionali. Ha anche completato un Bachelor of Education (B.A.), un Bachelor of Business Administration (B.A.A.) e un Bachelor of Laws presso la Laval University (LL.B.).
W.M.: Maestro grazie per la disponibilità, La seguo sulla pagina di Facebook con molto interesse. Spesso vedo nei suoi video diverse tipologie di chitarre. Ci racconta un po' dei suoi inizi e dei percorsi di studio svolti durante gli anni di formazione musicale?
D.J.: Ho studiato chitarra classica da quando avevo 5 anni. Ma è solo quando sono andato al college a 17 anni che ho scoperto davvero la musica antica. Il mio maestro dell'epoca suonava la chitarra e il liuto e teneva molti concerti di musica medievale, rinascimentale e barocca. Ero affascinato. Non avevo mai sentito quel tipo di musica prima. In realtà ero interessato alla storia e questo tipo di musica mi parlava. Ho studiato al "Conservatoire de musique de Québec" in chitarra classica, ma ultimamente ho scelto di concentrarmi sulla musica antica. Ho conseguito il dottorato di ricerca all'Università di Montreal in chitarre e liuti antichi. Allo stesso tempo, studiavo chitarra jazz alla Laval University di Quebec City, così come Management e Giurisprudenza… Ho sempre saputo che era importante, come musicista, essere un "uomo d'affari", essere in grado di capire le basi delle leggi e della gestione.
W.M.: Con quali strumenti suona durante i suoi concerti?
D.J.: Ho sempre suonato su repliche di chitarre storiche poiché non sapevo fosse possibile suonare su buoni strumenti originali.
Ma dal 2018 suono solo su chitarre d'epoca originali. Non necessariamente perché penso che suonino meglio, ma perché mi ispirano come performer. Non solo suono su strumenti originali, ma per fortuna suono su chitarre realizzate dai migliori costruttori di tutta la storia del nostro strumento: Lacote, Pagés, Torres, Voboam, Fabricatore, Panormo, Stauffer, Martin, Arias, Friederich, Laprevottte, Villaumes , ecc… Questo rende i miei concerti unici in un certo senso. Non conosco molti chitarristi che offrono quel tipo di esperienza musicale.
W.M.: Verso quale repertorio si riconosce maggiormente?
D.J.: Le persone sono affascinate da questo progetto. Quando suono in concerto, posso scegliere il repertorio che mi piace, perché il pubblico è già conquistato dalle splendide chitarre sul palco.
Quando ero più giovane, stavo cercando di trovare un repertorio difficile (lo facciamo tutti un giorno o l'altro). Pensavo che fosse l'unico modo per essere conosciuto come un buon chitarrista. Ora so che non importa affatto. Suono la musica che mi piace, non importa quanto sia difficile. Non è più necessario. Ora scelgo il repertorio solo perché mi piace e si adatta alla chitarra che voglio promuovere. Suonerei Arcas e Tarrega sulla mia Torres, de Visée e il primo barocco francese sulla mia Voboam, Giuliani e Paganini sulla mia Fabricatore, Shand e Pratten sulla mia Panormo, Mertz sulla mia Stauffer, Coste sulla mia chitarra Lacote/Coste, ecc. per non suonare sempre gli stessi pezzi, mi piace scoprire nuovi repertori cercando negli archivi.
E questa è la mia routine. Ogni giorno cerco negli archivi, cercando di trovare un nuovo vecchio repertorio da suonare. E cerco sempre di adattare il buon repertorio a ogni chitarra.
W.M.: Lei opera in tanti ambiti, come cambia il suo modo di suonare nei dei diversi contesti?
D.J.: Prima di tutto devo dire che ho studiato musica jazz oltre che classica. Mia moglie è una grande cantante jazz e abbiamo girato la maggior parte dei festival jazz in tutto il mondo come duo jazz. Quindi sono abituato a suonare in un contesto diverso rispetto al mondo della chitarra classica.
Quindi penso che tu possa suonare la musica che vuoi qualunque sia il contesto se hai le capacità per "vendere" quello che stai facendo. Suono regolarmente musica antica in festival di musica pop, blues, rock e altri… Le persone sono interessate alla storia del nostro strumento ed è sempre fantastico vedere come sono disposti ad ascoltare un repertorio diverso. Quando suono Giuliani sulla mia Fabricatore in un festival di musica non classica, e alla gente piace, sento di aver fatto un buon lavoro!
Naturalmente, la chiave è comunicare con il pubblico. Per raccontare storie che li toccano. Per offrire un'esperienza speciale. Quando hai un buon progetto puoi suonare in diversi contesti e il pubblico ti segue.
Ad esempio, offro il mio progetto "Histoires de Guitares" in solo, con orchestra, versione da camera, con cantante, per bambini, ecc.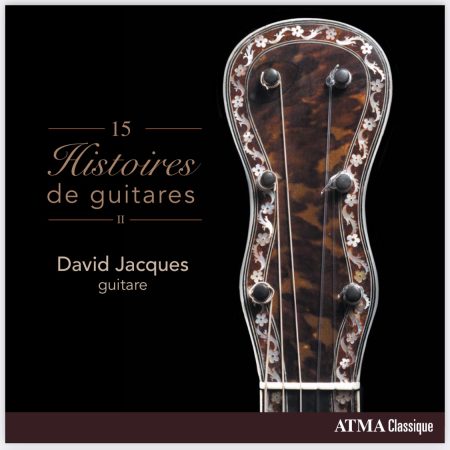 W.M.: Lei svolge anche un'intensa attività didattica, spesso è all'estero invitato per masterclass e concerti. Come vede il percorso didattico in Europa rispetto a quello del suo paese?
D.J.: Sì, insegno chitarra e liuto alla Laval University e allo Ste-Foy's College di Quebec City, in Canada. Do anche corsi di perfezionamento qua e là. Ho spesso la sensazione che ci sia meno interesse per la musica classica qui in Canada (in generale), ma quando viaggio capisco che stiamo tutti lavorando duramente per promuovere la musica per chitarra. Affrontiamo tutti le stesse difficoltà: facilità e tante distrazioni. È sempre una sfida attirare l'attenzione sulla musica, ad esempio sui social media, quando le persone sono sommerse da così tante informazioni e distrazioni.
W.M.: Ci parla delle sua collezione di chitarre?
D.J.: Per prima cosa ho una "collezione permanente". L'idea non è quella di avere il maggior numero di chitarre possibile, ma di avere uno di ciascuno dei produttori conosciuti della storia della chitarra. Panormo, Lacote, Stauffer, Torres, Pagés, Voboam, Fabricatore, ecc.
Poi ho una "collezione flessibile". Compro e vendo chitarre antiche. Sono molto interessato a restaurare chitarre e venderle. Sono sempre orgoglioso quando ho investito in un povero strumento d'epoca rotto, poi ho pagato il restauro e alla fine canta di nuovo e posso venderlo a un musicista che lo terrà in vita. Finché avrò i soldi per farlo, investirò in chitarre. Perché li conosco e perché so che i chitarristi sono sempre più interessati a suonare strumenti storici.
W.M.: .: Tra l'abete ed il cedro quale preferisce? Per le chitarre storiche utilizza corde in nylon?
D.J.: Cerco di non avere preferenze. Mi piace trovare il punto debole su ogni chitarra in modo da poterle godere al meglio. L'abete non è migliore del cedro, solo diverso. Stessa cosa per il fondo in acero o palissandro. Suonano in modo diverso, ma non credo che ce ne sia uno migliore dell'altro.
Stesso approccio per le corde. Sulle mie chitarre barocche uso corde di budello. Sui romantici dipende. Uso anche il nylgut e molto spesso uso il nylon. Scelgo ciò che suona meglio su ogni strumento. Di solito gioco anche a A:430 o vicino. Ma per me non è un dogma. Se la chitarra suona meglio a 420, la accordo a 420.
W.M.: Durante questo periodo di pandemia, i concerti e le attività annesse sono state sospese. Ci parla dei suoi futuri progetti e della produzione musicale discografica?
D.J.: Mi sento molto fortunato perché sono stato molto impegnato anche in questo periodo di pandemia. Ho tenuto molti concerti online e prodotto molti progetti supportati dal Canada art Council.
– Ho registrato "15 Histoires de guitares", ora disponibile su Atma Classique records
– Ho prodotto il concerto "Guitar Collection". 25 chitarre in 60 minuti. Disponibile su Youtube.
– Ho prodotto un concerto originale con orchestra, presentando la mia collezione di chitarre
– Ho pubblicato 3 spartiti musicali presso "Productions D'oz".
– Ho prodotto un concerto per bambini, con la mia collezione di chitarre. È stata una vera sfida! Ma molto divertente.
– Ho insegnato più del normale. Pandemia o no, le persone vogliono ancora imparare e progredire con la chitarra.
– sto preparando 2 nuovi CD: "Histoires de guitares vol. 3". E una registrazione di concerti per chitarra (su chitarre d'epoca).
W.M.: Di recente è stato in Italia, ci racconta di esperienza professionale?
D.J.: Sono stato 2 volte in Italia poco prima del lockdown. Innanzitutto, un tour in solitaria nella regione di Lamezia. Stavo suonando un intero concerto con la mia chitarra voboam 1665. Ho incontrato persone molto simpatiche e mi sono divertito. Ho tenuto una master class e gli studenti erano fantastici. Poi ho fatto un tour più lungo con il mio gruppo barocco canadese "Ensemble Caprice". Abbiamo suonato a Milano, Torino e Firenze.
W.M.: Siamo alla fine di questa interessante discussione. La ringrazio ancora per il tempo dedicato
ai lettori della ns. rivista Weekly Magazine.
D.J.: Vorrei salutare tutti i miei fan italiani. Sperando di tornare in Italia il prima possibile.
---
This time the absolute star will be David Jacques, world-famous Canadian musician. Originally from Saint-George de Beauce in Quebec, he has over 3,500 concerts in all five continents and is professor of classical guitar and lute at the Department of Music of Cégep de Sainte Foy and at the Faculty of Music of the University of Laval.
Originally from Saint-Georges de Beauce, Quebec, David Jacques holds a doctorate in early music performance (D. Mus. Guitars and liutes) from the University of Montreal. He studied classical guitar at Cégep de Sainte-Foy, at Laval University and at the Conservatoire de musique de Québec. He has collaborated on more than 50 recordings on the XXI-21, ATMA, Oz and analekta labels, many of which have been nominated for ADISQ, JUNOs, Opus Awards and ECHO Classiks. His albums Guitar Pieces by Rémy Médard (2008), Tango Boréal (2012) and Pampa Blues (2014) earned him the Opus Prize in particular. He has also released several guitar arrangements for Productions d'Oz. Very active here and abroad, he has given more than 4000 concerts in more than 40 countries and on five continents. He has been a guest of several orchestras such as the Violons du Roy, the Orchester symphonique de Québec, the Orchester Métropolitain, the Orchester symphonique de Montréal, IMusici, Moscow Pocket Symphonie, L'Hermitage de Moscow, the Ensemble Caprice and the Houston Mercury Orchestra. In addition to his activities as a performer, David is professor of classical guitar and lute at the Music Department of Cégep de Sainte-Foy and at the Faculty of Music of the University of Laval. Occasionally he is part of the juries of important national and international competitions. He also completed a Bachelor of Education (B.A.), a Bachelor of Business Administration (B.A.A.) and a Bachelor of Laws from Laval University (LL.B.).
W.M.: Maestro thank you for your availability, I follow you on the Facebook page with a lot of interest. I often see different types of guitars in his videos. Can you tell us a little about your beginnings and the study paths carried out during the years of musical training?
D.J.: I studied classical guitar since i was 5 years old. But it's only when i went to college at 17 years old that i really discovered early music. My teacher of the time was a guitar and lute payer and he was giving many concerts of medieval, renaissance and baroque music. I was fascinated. I never heard that kind of music before. I was actually interested in history and this kind of music was speaking to me. I studied at the "Conservatoire de musique de Québec" in classical guitar, but lately i chose to focus on early music. I did my PHD degree at Montreal University in early guitars and lutes. At the same time, i was studiyng jazz guitar at Laval University in Quebec city, as well as Management and Law… I always knew it was important, as a musician, to be a "business man", to be able to understand the basics of laws and management.
W.M .: What instruments do you play with during your concerts?
D.J.: I always played on early guitar replicas, as i did not know it was possible to play on good original instruments.
But since 2018 i only play on original period guitars. Not necessarely because i think they sound better, but because they inspire me as a performer. Not only i play on original instruments, but i luckily play on guitars made by the best makers of all the history of our instrument: Lacote, Pagés, Torres, Voboam, Fabricatore, Panormo, Stauffer, Martin, Arias, Friederich, Laprevottte, Villaumes, etc… That makes my concerts unique in a sense. I dont know many guitarists who offer that kind of musical experience.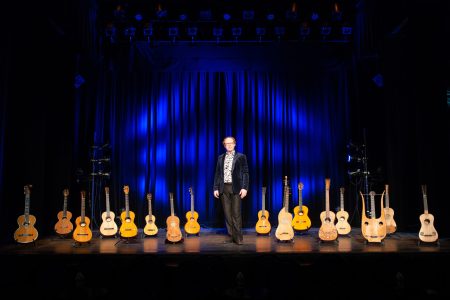 W.M .: Which repertoire do you recognize the most?
D.J.: People are fascinated by this project. When i play in concert, i can choose whatever repertoire i like, because the public is already conquered by the stunning guitars on stage.
When i was younger, i was trying to find difficult repertoire (we all do that one day or another). I tought that was the only way to be known as a good guitarist. Now i know that it doesnt matter at all. I play the music i like, no matter how difficult it is. It's not a need anymore. Now i choose the repertoire only because i like it and that it fits with the guitar i want to promote. I would play Arcas and Tarrega on my Torres, Visée and early french baroque on my Voboam, Giuliani and Paganini on my Fabricatore, Shand and Pratten on my Panormo, Mertz on my Stauffer, Coste on my Lacote/Coste guitar, etc. I try not to always play the same pieces, i like to discover new repetoire searching in archives.
And this is my routine. Each day i'm looking in archives, trying to find new old repertoire to play. And i always try to fit the good repertoire to the each guitar.
W.M .: You work in many areas, how does your way of playing change in different contexts?
D.J.: I first have to say that i studied jazz music as well as classical. My wife is a great jazz singer and we toured most jazz festival all around the world as a jazz duo. So i'm used to play in different context than the classical guitar wolrd.
Then I think you can play the music you want whatever the context if you have the skills to "sell" what you are doing. I regularly play early music in pop, blues, rock and other music festivals… People are interested in the history of our instrument and it's always fantastic to see how thay are willing to listen to different repertoire. When i play Giuliani on my Fabricatore in a non-classical music festival, and people like it, i feel i did a good job!
Of course, the key is to communicate with the audience. To tell stories that touch them. To offer a special experience. When you have a good project you can play in differet contexts and the public follows you.
Per example, i offer my project "Histoires de Guitares" in solo, with orchestra, chamber music version, with singer, for kids, etc.
W.M .: You also carry out an intense didactic activity, you are often invited abroad for masterclasses and concerts. How do you see the educational path in Europe compared to that of your country?
D.J.: Yes, i'm teaching guitars and lutes at Laval University and Ste-Foy's College in Quebec city, Canada. I also give master classes here and there. I often have the feeling that there is less interest in classical music here in Canada (in general), but when i travel i understand that we are all working hard to promote guitar music. We all face the same difficulties : ease and so many distractions. It's always a challenge to draw attention on music, on social media per exemple, when people are submerged with so many informations and distractions.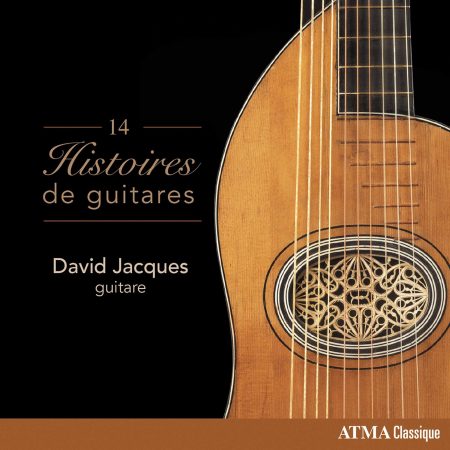 W.M .: Can you tell us about your guitar collection?
D.J.: I first have a "permanent collection". The idea is not to have as many guitars as possible, but to have one of each known makers of the history of the guitar. Panormo, Lacote, Stauffer, Torres, Pagés, Voboam, Fabricatore, etc.
Then i have a "flexible collection". I buy and sell early guitars. I'm very interested in restoring guitars and selling them. I'm always proud when i invested in a poor broken period instrument, then i paid for the restoration and at the end it sings again and i can sell it to a player who will keep it alive. As long as i'll have the money to do it, i'll invest in guitars. Because i know them and because i know that guitarists are more and more interested to play historical instruments.
W.M .:.: Which one do you prefer between fir and cedar? Do you use nylon strings for historical guitars?
D.J.:I try not to have a preference. I like to find the sweet spot on each guitar so i can enjoy them at their best. Fir is not better than cedar, just different. Same for maple backs or rosewood. They sound different, but i dont think there is one better than the other.
Same approach for the strings. On my baroque guitars i use gut strings. On romantics it depends. I also use nylgut and very often i use nylon. I choose what sounds the best on each instrument. I also normally play at A:430 or near. But for me it's not a dogma. If the guitar sounds better at 420 i tune it at 420.
W.M .: During this pandemic period, concerts and related activities have been suspended. Can you tell us about your future projects and record music production?
D.J.: I feel very lucky because i was very busy even this pandemic period. I gave many online concerts and produced many projects supported by the Canada art Council.
– I recorded "15 Histoires de guitares", now available on Atma Classique records
– I produced the concert "Guitar Collection". 25 guitars in 60 minutes. Available on Youtube.
– I produced an original concert with orchestra, feturing my guitar collection
– I published 3 music scores at "Productions D'oz".
– I produced a concert for kids, featuring my guitar collection. That was a real challenge! But very fun.
– I taught more that normal. Pandemic or not, people still want to learn and progress on guitar.
– i'm preparing 2 new CDs: "Histoires de guitares vol. 3". And a guitar concertos recording (on period guitars).
W.M .: You have recently been to Italy, can you tell us about your professional experience?
D.J.: I went 2 times to Italy just before the lock down. First, a solo tour in Lamezia region. I was playing a whole concert on my voboam guitar 1665. I met very nice people there and enjoyed my time. I gave a master class and students were great. Then i did a longer tour with my canadian baroque group "Ensemble Caprice". We played in Milan, Torino and Florence.
W.M .: We are at the end of this interesting discussion. Thanks again for taking the time
to the readers of our Weekly Magazine.
D.J.: I would like to greet all my italian fans. Hoping to get back in Italy as soon as it is possible.